Meet the Boeing X-37
Whoa! Steady on there a bit. Have you met the latest
Boeing baby yet? Well, I hadn't until just the other day from an article I discovered on the Huffington Post, about a 'mysterious space plane' which nobody knows why it's orbiting the earth for seemingly 'unnumbered days' doing, well, nobody quite knows what. It is all made to sound a bit sinister in the Huffington post - just what ARE the Americans up to?Well, I'm not entirely sure myself, but Wikipedia's free dictionary informs me that there are three variants of this baby; the Boeing X-37. There is the Boeing X-37A, Boeing X-37B, and the Boeing X-37C.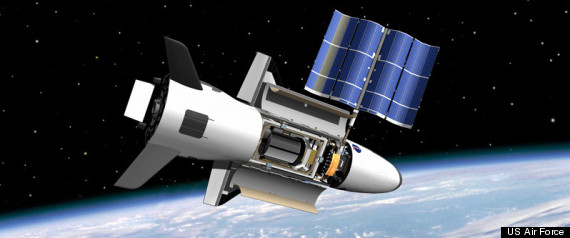 Picture courtesy of the Huffington Post
You will notice the similarities between this space flying baby - and the recently retired shuttles. The X-37 is a sleeker less bulky construction than it's predecessor, which defies gravity to reach earth's orbit with the help of a rocket. It re-enters the earths atmosphere as 'Spaceplane'
to land on it's wheels just like the shuttle did.
And there was I lamenting the demise of the Space Shuttle. Premature lamentations as you can plainly and clearly see. Well done, Boeing and Nasa.At least space exploration has not been abandoned............